Regular price
$174.99 USD
Regular price
$88.80 USD
Sale price
$174.99 USD
Unit price
per
Sale
Sold out
Share
View full details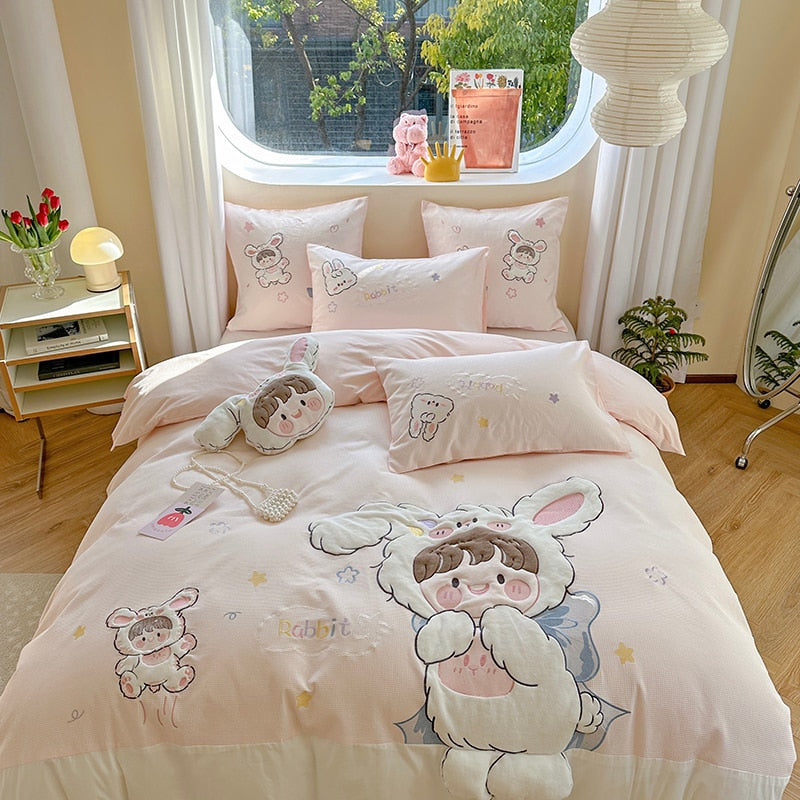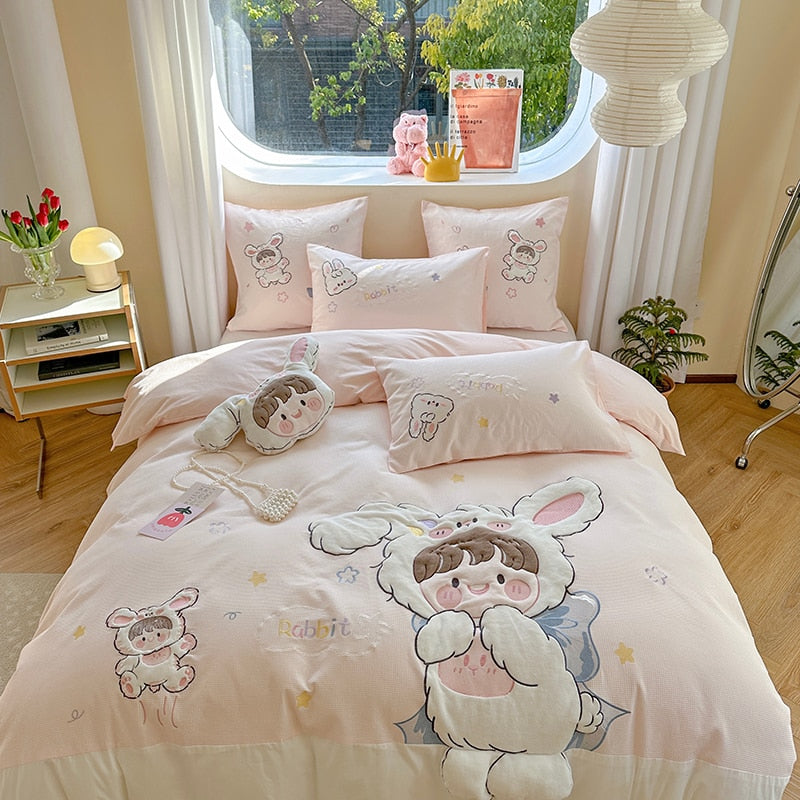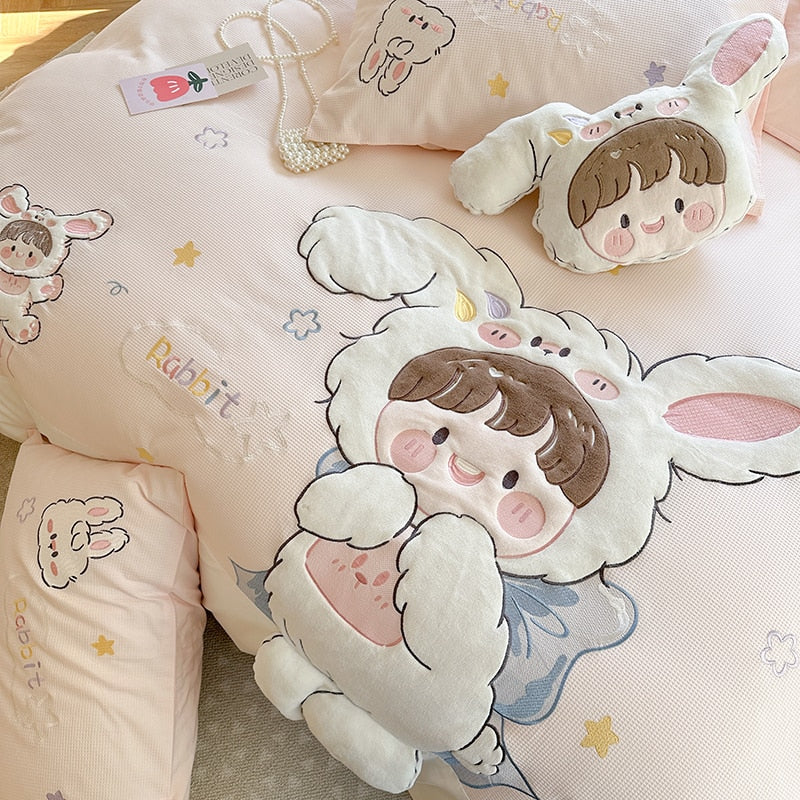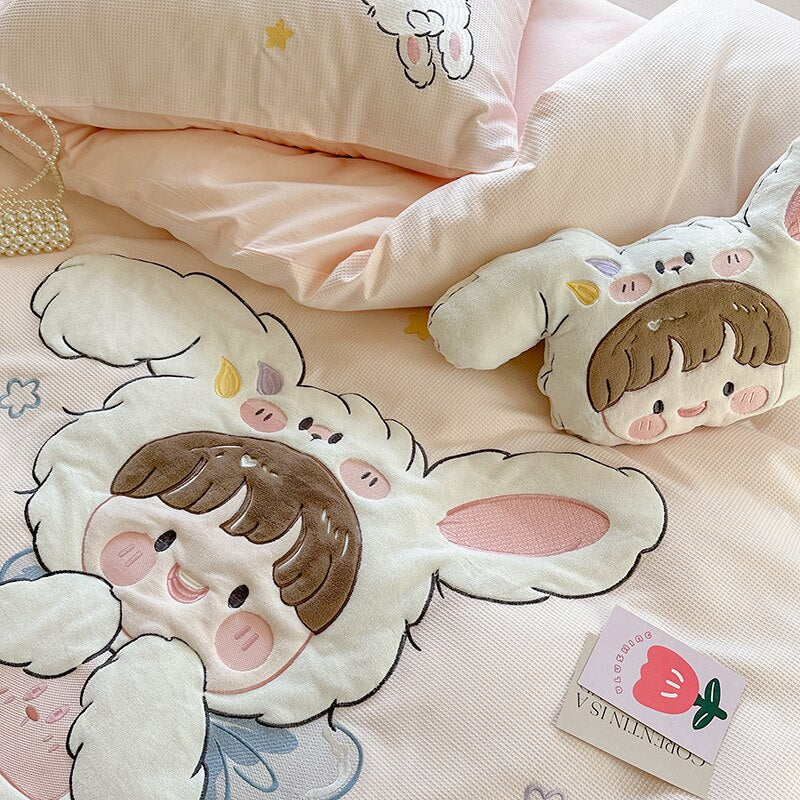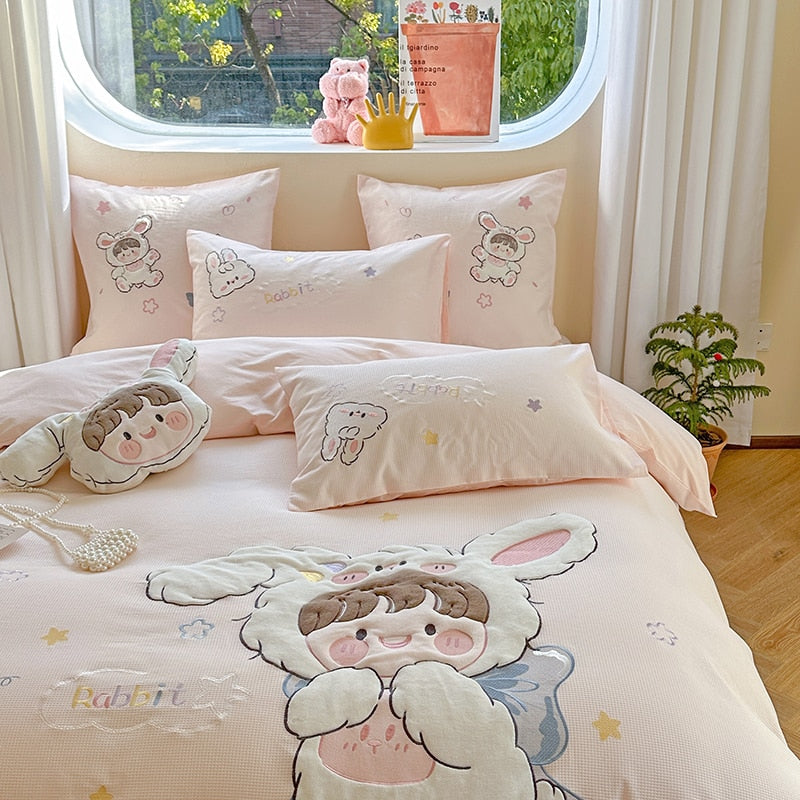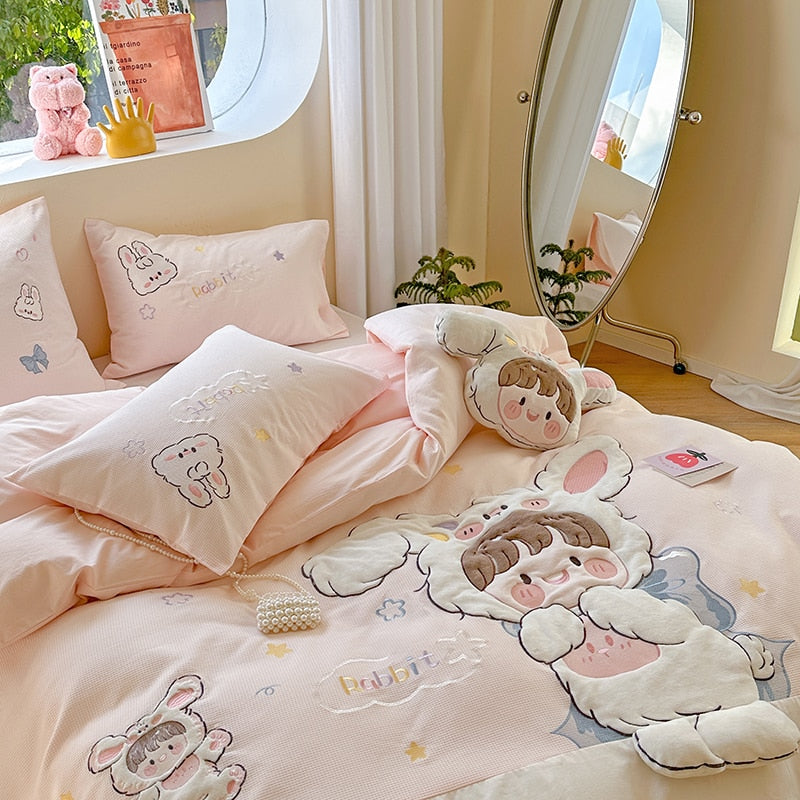 Introducing our Bunny Girl Bedding - the perfect way to bring kawaii charm and whimsy to your bedroom decor. This delightful bedding set features a cute design of a girl dressed as a bunny, adding a touch of sweetness to your sleep space.
Key Features:
Kawaii Bunny Girl Design: The focal point of this bedding set is a kawaii girl dressed in a bunny costume. Her cute ears and bunny tail create a charming and heartwarming atmosphere in your bedroom.

Soft and Comfortable: Crafted from high-quality, soft-to-the-touch fabric, this bedding ensures a cozy and comfortable night's sleep.

Multiple Sizes: Choose from a range of sizes to suit your bed, including Twin, Full, Queen, and King.

Versatile Decor: Whether you're an anime enthusiast, a lover of all things kawaii, or simply seeking a touch of whimsy in your bedroom, this bedding adds a playful and stylish element to your decor.
Transform your bedroom into a haven of cuteness and comfort with our Bunny Girl Bedding. Whether you're a fan of bunny-themed decor or you simply adore kawaii style, this bedding set will bring joy to your nightly retreat. Make bedtime a delightful experience with the enchanting presence of the Bunny Girl. Choose your preferred size and elevate your bedroom decor today!
Flat sheet style
Single 150X200cm 3pcs
1 piece Duvet Cover: 150*200cm(59*79inches)
1 piece Flat bed sheet:180*230(71*91inches)
1 piece Pillowcase:48*74cm(19*30inches)

Queen 200X230cm 4Pcs
1 piece Duvet Cover: 200*230cm(79*91inches)
1 piece Flat bed sheet:245*250(96*98inches)
2 pieces Pillowcases:48*74cm(19*30inches)

King 220X240cm 4Pcs
1 piece Duvet Cover: 220*240cm(87*94inches)
1 piece Flat bed sheet:245*270(96*106inches)
2 pieces Pillowcases:48*74cm(19*30inches)


Single 150X200cm 4pcs
1 piece Duvet Cover: 150*200cm(59*79inches)
1 piece Flat bed sheet:180*230(71*91inches)
1 piece Pillowcase:48*74cm(19*30inches)
1 piece Small pillow

Queen 200X230cm 5Pcs
1 piece Duvet Cover: 200*230cm(79*91inches)
1 piece Flat bed sheet:245*250(96*98inches)
2 pieces Pillowcases:48*74cm(19*30inches)
1 piece Small pillow

King 220X240cm 5Pcs
1 piece Duvet Cover: 220*240cm(87*94inches)
1 piece Flat bed sheet:245*270(96*106inches)
2 pieces Pillowcases:48*74cm(19*30inches)
1 piece Small pillow
Fitted sheet style
Single 150X200cm 3pcs
1 piece Duvet Cover: 150*200cm(59*79inches)
1 piece Fitted sheet : 120*200+25cm(47*79+9.8inches)
1 piece Pillowcase:48*74cm(19*30inches)

Queen 200X230cm 4Pcs
1 piece Duvet Cover: 200*230cm(79*91inches)
1 piece Fitted Sheet:150*200+25cm(59*79+9.8inches)
2 pieces Pillowcases:48*74cm(19*30inches)

King 220X240cm 4Pcs
1 piece Duvet Cover: 220*240cm(87*94inches)
1 piece Fitted Sheet:180*200+25cm(71*79+9.8inches)
2 pieces Pillowcases:48*74cm(19*30inches)


Single 150X200cm 4pcs
1 piece Duvet Cover: 150*200cm(59*79inches)
1 piece Fitted sheet : 120*200+25cm(47*79+9.8inches)
1 piece Pillowcase:48*74cm(19*30inches)
1 piece Small pillow

Queen 200X230cm 5Pcs
1 piece Duvet Cover: 200*230cm(79*91inches)
1 piece Fitted Sheet:150*200+25cm(59*79+9.8inches)
2 pieces Pillowcases: 48*74cm(19*30inches)
1 piece Small pillow

King 220X240cm 5Pcs
1 piece Duvet Cover: 220*240cm(86.6*94.5inches)
1 piece Fitted Sheet:180*200+25cm(71*79+9.8inches)
2 pieces Pillowcases: 48*74cm(19*30inches)
1 piece Small pillow
2 pieces Pillowcases:48*74cm(19*30inches)