Regular price
$21.65 USD
Sale price
$44.99 USD
Unit price
per
Sale
Sold out
Share
View full details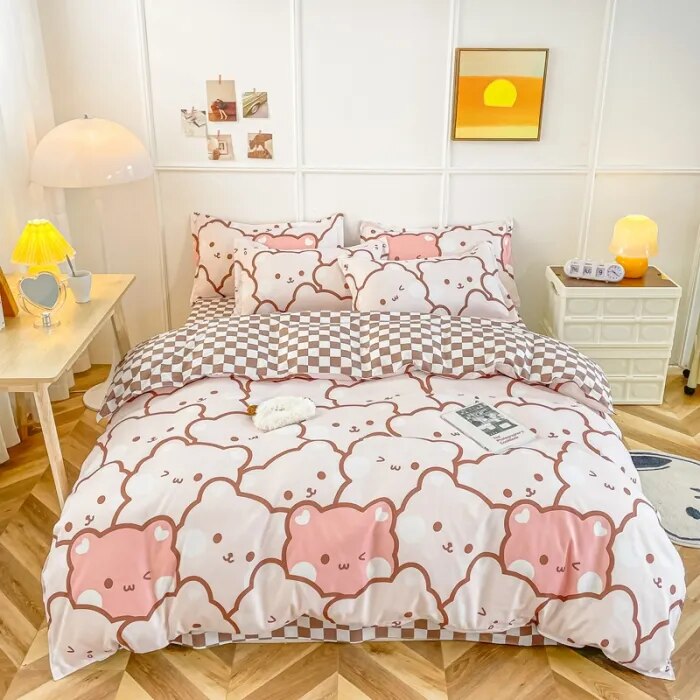 Teddy Bear Bedding Set: Cuddle Up in Dreamy Comfort
Transform your bedroom into a haven of comfort and cuteness with our Teddy Bear Bedding Set. This enchanting bedding ensemble invites you to snuggle up in style, surrounded by the adorable warmth of teddy bears. Crafted for ultimate comfort and designed with a touch of whimsy, this bedding set is the perfect way to add a cozy and charming atmosphere to your sleep space.
Charming Teddy Bear Design:
The Teddy Bear Bedding Set features a delightful teddy bear design that adds a playful and endearing touch to your bedroom decor. These cuddly bears create a soothing and inviting ambiance for a peaceful night's sleep.
Ultra-Soft and Luxurious:
Crafted from high-quality, ultra-soft materials, this bedding set ensures a luxurious and comfortable night's rest. The plushness of the fabric offers a cozy embrace that lulls you into a deep slumber.
Complete Set for Convenience:
Our Teddy Bear Bedding Set includes everything you need to revamp your bedding. It comes with a duvet cover, pillowcases, and a fitted sheet, providing a cohesive look that's both stylish and practical.
Easy Care and Durability:
Designed for your convenience, this bedding set is easy to care for and maintains its plushness and vibrancy even after numerous washes. It's built to withstand the test of time.
Available in Various Sizes:
Choose from a range of sizes to fit your bed perfectly. Whether you have a twin, full, queen, or king-sized bed, there's a Teddy Bear Bedding Set for you.
Embrace Dreamy Comfort:
With our Teddy Bear Bedding Set, you can embrace the dreamy comfort of cuddly teddy bears while enhancing the look and feel of your bedroom. Transform your space into a cozy retreat that radiates charm and relaxation.
Order Your Bedding Set:
Don't miss the opportunity to cuddle up in dreamy comfort. Order your Teddy Bear Bedding Set today and experience the magic of teddy bears every night! 🐻🛏️🌙
Size:
Cover 150x200cm 3pcs:

Duvet cover:150 X 200 cm=59 X 79 inch 1 pcs
Bed sheets:160 X 230 cm=63 X 91 inch 1 pcs
Pillowcase:48 X 74 cm=19 X 29 inch 1 pcs
-------------------------------------------
Cover 150x200cm 4pcs:

Duvet cover:150 X 200 cm=59 X 79 inch 1 pcs
Bed sheets:200 X 230 cm=79 X 91 inch 1 pcs
Pillowcase:48 X 74 cm=19 X 29 inch 2 pcs
-------------------------------------------
Cover 180x200cm 4pcs:

Duvet cover:180 X 220 cm = 71 X 87 inch 1 pcs
Bed sheets:230 X 230 cm = 91 X 91 inch 1 pcs
Pillowcase:48 X 74 cm = 19 X 29 inch 2 pcs
-------------------------------------------
Cover 200x230cm 4pcs:

Duvet cover: 200 X 230 cm = 79 X 91 inch 1 pcs
Bed sheets:230 X 230 cm = 91 X 91 inch 1 pcs
Pillowcase:48 X 74 cm = 19 X 29 inch 2 pcs
--------------------------------------------
Cover 220x240cm 4pcs:

Duvet cover: 220 X 240cm = 87 X 94 inch 1 pcs
Bed sheets:230 X 250 cm = 91 X 99 inch 1 pcs
Pillowcase:48 X 74 cm = 19 X 29 inch 2 pcs